FIGS: A Hot Investment In A Growing Niche Industry – Seeking Alpha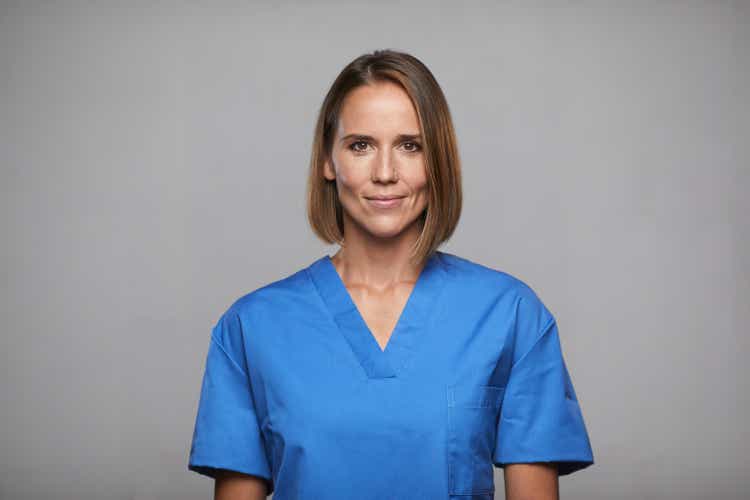 FIGS Inc. (NYSE:FIGS) is a healthcare apparel company. The company's platform is entirely digital and aims to provide a seamless online shopping experience, relying on preexisting infrastructure to deliver products directly to consumers. FIGS made its initial public offering in May 2021, partnering with Robinhood to ensure retail investors can buy shares at the initial offering price. The company has launched a number of charity and donation drives that have had the effect of turning FIGS into industry-standard apparel with good social standing. Prospective investors might benefit from waiting for the next earnings call before investing, as it is poor practice to enter a stock so soon after IPO. Regardless of stock price and retail valuation, FIGS has solid fundamentals and competent management, making it an attractive opportunity for value investors in the medium-to-long term.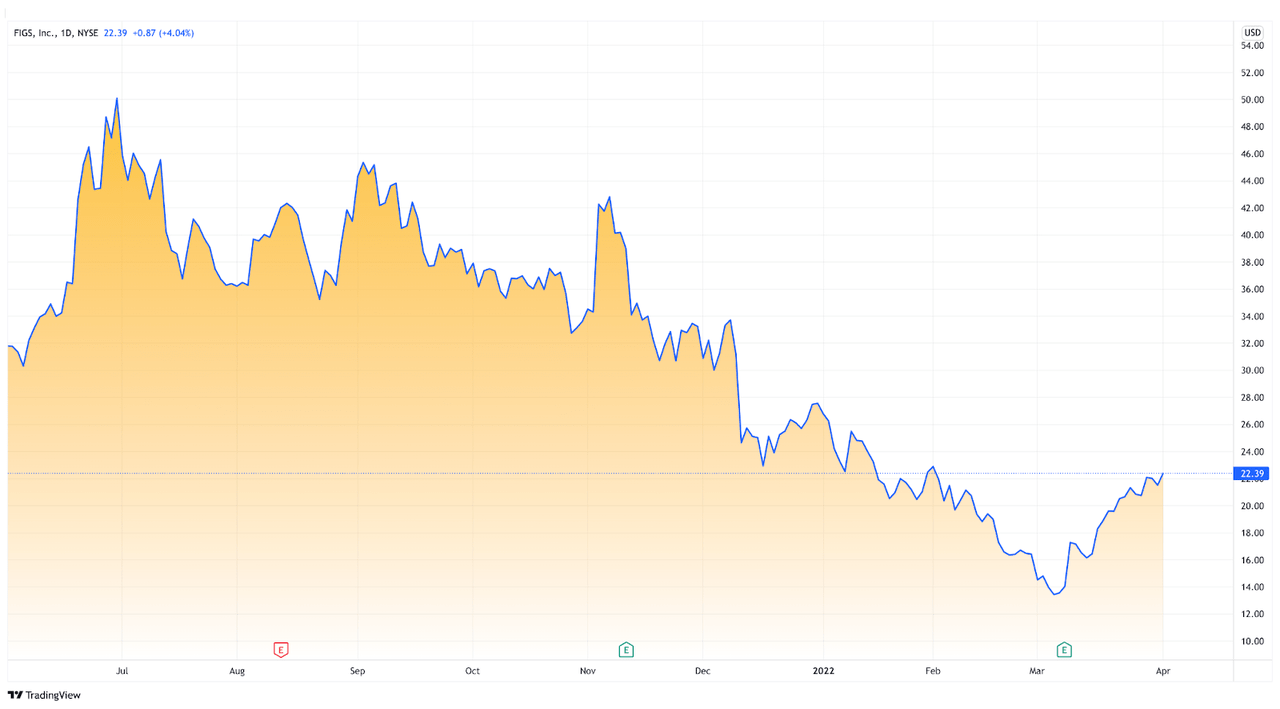 Industry Analysis
The medical clothing market is projected to grow at a CAGR of 6% until 2028. According to projections, the market size for the healthcare apparel industry will reach $140 billion by 2028, presenting lucrative opportunities for FIGS to capture a higher global market share through aggressive marketing and strategic contracts. The demand for comfortable, professional, and functional equipment will continue to expand as the medical industry takes on an increasingly important role in society, both as a line of defense against pandemics and as a bastion of essential infrastructure in the post-Covid era.
Covid-19 Impact
The Covid-19 pandemic created new market opportunities for the healthcare apparel industry. It triggered heightened concern for the safety and protection of patients and personnel, which fostered substantial demand for high-quality medical apparel. Doctors and nurses worldwide were given essential worker status and forced to work longer hours than usual under significant stress, creating unprecedented demand for comfort-focused medical apparel. Similarly, healthcare workers are more aware of their importance than ever, which is changing the dynamic between workers and institutions, giving the former unprecedented leverage, freedom, and flexibility to choose personalized professional attire – a trend that FIGS is at the forefront of. These trends following the pandemic are reflected in the company's stellar financial performance in fiscal years (FY) 2020 and 2021 (FY20-21).
Risks and Mitigants
In the United States, scrubs are considered medical devices and, therefore, subject to FDA approval. Traditionally, medical clothing regulations were relatively permissive, and the likelihood of triggering a regulatory intervention was minimal. However, recent events indicate a shift in the regulatory landscape. In January 2020, Cardinal Health was forced to recall almost 10 million medical garments due to quality issues that stemmed from poor adherence to FDA standards. To reduce its exposure to the risk of costly product recalls, FIGS exclusively utilizes high-quality materials combined with best-in-class production techniques to ensure that its products are durable, moisture-wicking, anti-wrinkle, and anti-bacterial. The company has a dedicated team for sustainability and governance, currying favor with Environment, Social, and Governance (ESG) investors. Over 65% of the company's suppliers are long-term partnerships, and 100% of suppliers are WRAP (Worldwide Responsible Accredited Production) certified, holding at least gold or platinum status. Following the pandemic, there were supply chain disruptions in most physical-good industries. FIGS was immunized against these disruptions and future disruptions due to its highly diversified global supply chain. The company has production facilities in India, Sri Lanka, China, South & Central America, and Southeast Asia. Most FIGS customers are in North America, Western Europe, and Australia. By spreading out its operations across the globe, FIGS is insulated from the threat of cascading trade protectionism and souring international relations. The company is also protected against a single point of failure events through its diversification strategy.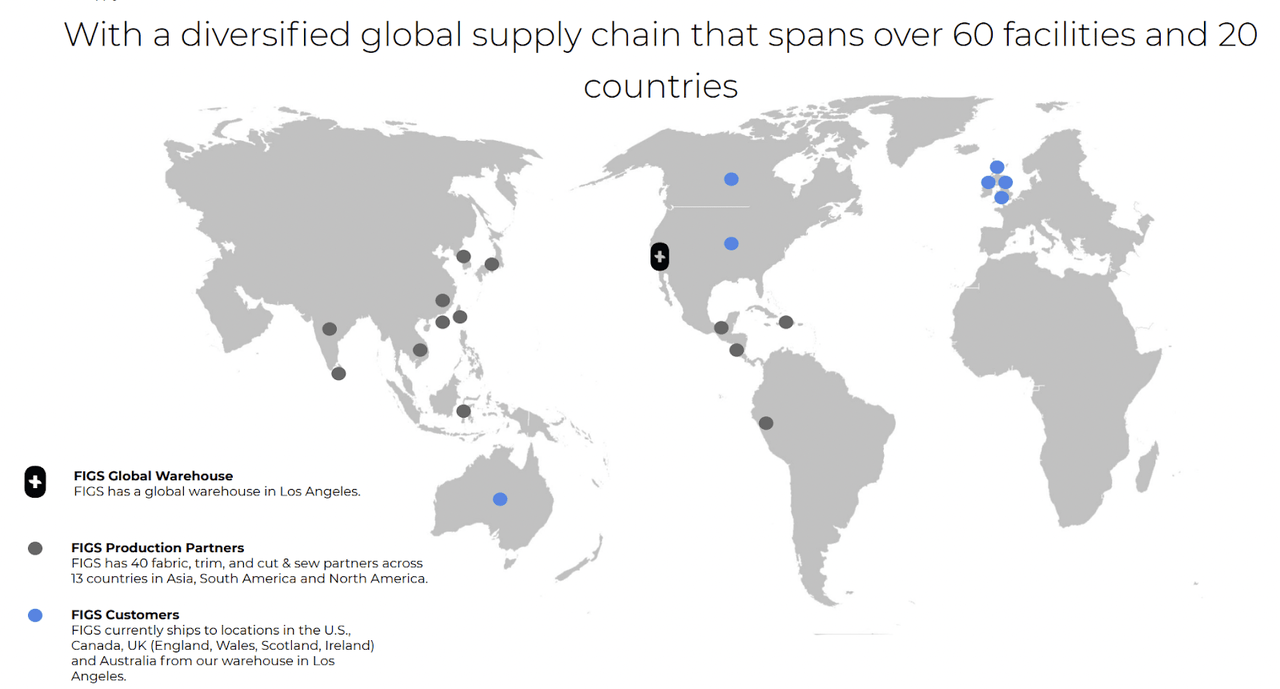 Products and Opportunities
FIGS sells medical scrubs designed to be aesthetically pleasing and highly practical while providing unprecedented comfort. FIGS scrubs come in various styles, colors, and sizes for men and women. The customizability of FIGS clothing is unique in the medical apparel market and allows for individual expression without sacrificing professionalism and brand recognition. FIGS scrubs are especially sought after by healthcare professionals due to the presence of convenient pockets. The design and placement of FIGS pockets are conducive to working long hours. Traditional scrubs are bereft of adequate pocket space, primarily because it increases the risk of snagging onto external equipment and creating potentially hazardous situations. FIGS solves this problem by using tightly seamed internal pockets and zips in strategic locations, thereby giving doctors and nurses unparalleled pocket space without accruing additional risks. The company has expanded into selling specialized socks, shoes, joggers, vests, and jackets. This reflects FIGS' strategy to fill gaps in the market by creating essential daily-wear products for healthcare professionals with the same zeal that sporting companies create specialized athletic wear. By diversifying its product range, the company is strengthening its revenue pipelines while capturing a higher industry market share.
While FIGS is focused on a direct-to-consumer model, the next expansion stage could include institutional customers. The company can establish recurring revenue pipelines by securing long-term, bulk contracts with clinics, hospitals, military medical units, and medical schools. Medical clothing tends to have a short life span due to occupational exposures to bodily fluids and biological hazards, which means that there is scope for subscription revenue from individual customers, who tend to require new scrubs every year in different colors and styles. With the help of a successful marketing campaign and streamlined digital platform, FIGS has become a popular gift for healthcare professionals, a sign that the company has a strong foothold in the overall market. Medical workers' friends, family, and acquaintances make up an increasingly larger portion of customers. By all indicators, FIGS is on its way to becoming a household name by combining fashion and practicality in an unprecedented way.
Financial Analysis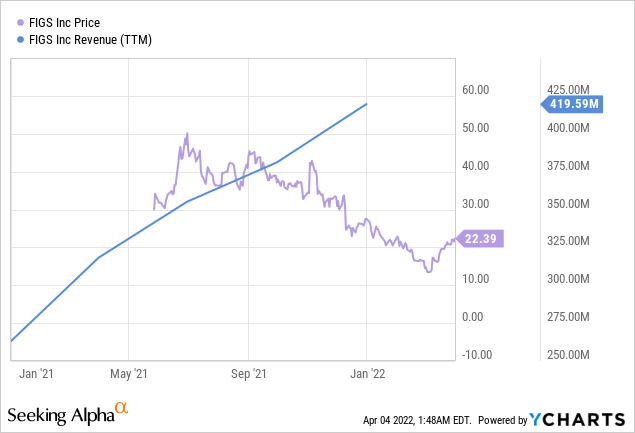 In FY21, FIGS earned net revenue of $420 million, a 60% increase year-on-year (y-o-y). The company made a net loss of $9.6 million, owing primarily to one-time IPO-related stock-based compensation expenses of $84 million. The losses of FY21 are not reflective of the company's underlying fundamentals, as, in FY20, the company earned $263 million in revenue and made a net profit of nearly $50 million. With this in mind, the adjusted net income for FY21 amounts to $51 million, yielding a healthy diluted earnings-per-share (EPS) of 0.30. In FY21, the company increased its portfolio of active customers by 46% to 1.9 million. Net revenues per active customer increased by 11% y-o- y, amounting to $224. This high figure indicates that customers are, on average, buying multiple products simultaneously, signifying the success of the company's product diversification, digital platform, and upselling strategy. Along with the increase in customers and revenue in FY21, FIGS faced significant operational expenses, mostly related to general administration, which cost about $150 million, a 260% change from the previous year. Signaling a drive to grow and capitalize on demand, in FY21, the company invested nearly $ 59 million in marketing, a 51% increase y-o-y. The surge in marketing expenses is partially driven by FIGS' commitment to technical accuracy. The company actively hires medical consultants and advisors, thus improving returns on advertising spending (ROAS) and customer retention.
In line with the FIGS' ambition to reach market leader status in its niche, the company boasts a strong pool of cash and equivalents amounting to nearly $200 million. With this liquidity, FIGS is free to invest in novel product development, marketing campaigns, and charity drives. Much of the cash came from the company's revenues, IPO, and investors. FIGS enjoys the backing of institutional investors, industry giants, and prominent individuals. At an early stage, Thomas Tull, the founder of Legendary Pictures, became a majority owner in FIGS by investing $65 million. Institutional investors include Irving Place Capital and Mohr Davidow Ventures, while individuals like Lululemon CEO Christine Day and actor Will Smith hold stakes in the company. Displaying the company's positive reputation in the business community, American business magazine Inc. named FIGS one of the fastest-growing companies in the country, owing to its 3-year revenue growth of almost 10,000%. FIGS continues to hold a spotlight in the public eye, bolstering its media presence and reception through calculated stunts, interviews, and campaigns.
Future Outlook and Conclusion
The pandemic-driven, exponential growth that FIGS saw in FY20-21 is not sustainable and unlikely to recur, so moving in the future, the company will probably experience a slightly decreased rate of growth. However, given the company's unique ambition to become the next Nike or Adidas of the healthcare world, there is little doubt that long-term growth is central to the FIGS agenda. The recent IPO suggests that upper management aims to cultivate stable revenue pipelines that will provide stakeholder-facing growth over a long-time horizon. The next stage in expansion involves strategic partnerships with healthcare companies and social media influencers, and sponsorships for underprivileged hospitals and medical students. By constantly working to improve ROAS, customer retention, revenue per active customer, and product diversity, FIGS is well-positioned to achieve strong EPS in the coming financial quarters. Given the industry growth and financial indicators, FIGS has ample room for growth, which will likely be reflected in positive EPS and stock market performance in the future.
In conclusion, FIGS has gained the business community's confidence, signaling strong potential as an investment in the short-to-medium term. Due to the recency of the company's IPO, it is too early to derive any data from stock market patterns. Therefore, it is best to wait and observe the market reaction to the next earnings call to determine if the company is under-or-overvalued. Either way, in the long run, based on fundamentals and industry projections, FIGS is an attractive value investment opportunity.