More agents turning to Google Ads to win instructions – Property Industry Eye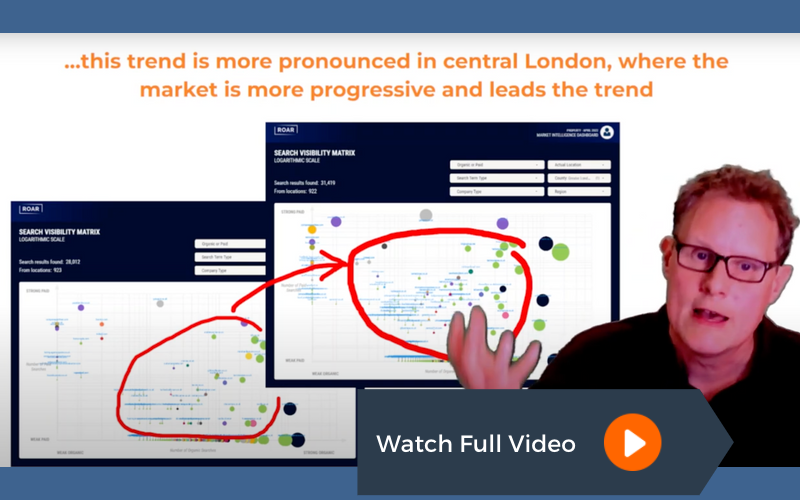 Our company tracks estate agency rankings across paid and organic results on Google and there have been a number of significant demand shifts at the start of 2022. In our latest advice video for Property Industry Eye, we've taken a deep dive into Google ranking changes withing the Estate Agents Leaderboards in Q1.
At the core of our findings, the market has tightened. Between January to April of this year we have seen an increase of 30% more agents turning on Google Ads to compensate. This shift is especially visible in greater London, where the market is more competitive, and online marketers are more established, performance marketing focused and hence the trend is more pronounced.
Watch the Video on Google Trends:
[embedded content]
Agents interested in understanding their local market across Google can get a free benchmark report from Homeflow. See your agencies ranking within your county / area by signing up for a free benchmarketing tracking report, like the Haart example covered in the video.
Google advertising allows estate agents to appear in the top positions on Google, above the usual organic positions and google my business listings. However, these adverts cost on a pay per click basis which is managed via a bidding auction in Google.
Competitive keywords such as local estate agent or estate agent near me have seen bidding prices increase by 16% in little over 6 months. The cost for a click on Google for these terms can now cost an average of £1.54, up from £1.30 in June 2021. Currently, in London, Google suggests for the search term "estate agent near me" the top advert can cost as high as £8 for a click!
Page 1 on Google has never been such a fierce battleground for agents!
Watch this EYE exclusive: Make Google benchmarking work for your agency